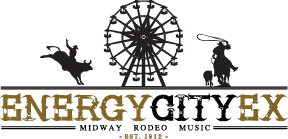 This has been years in the making! Everyone remembers what the fair was like all those years ago! The fun! The excitement! All the attractions! Something for everyone! We have been working hard to make this a reality for this great community and FINALLY IT'S HAPPENING!!!! The challenges of getting better dates from West Coast Amusements, dates for a new rodeo with stock available, something that would avoid high school final exams and be on a weekend was a difficult undertaking. But, we did it!
A new event deserves a new name!
I was sitting at a train one day and glanced over at the digital billboard and it was advertising for the 'Queen City Ex'. In my head I thought "oh I get it. Regina is the Queen City. So we would be the Energy City Ex if that's the case" Whoa! Wait a minute! Did I just stumble upon something great?!
This new name, 'ENERGY CITY EX' was unanimously agreed on. It would encompass all that we are trying to bring to this city! Wow! Who would've thought that an interruption to my day in the form of a train would aid in the creation of this great event!